5 Natural Alternatives to Coffee (And Why You Should Try Them) 

  
By DōMatcha® for an active lifestyle
Whether You're Looking To Eliminate Coffee Completely Or Just Try Something New, These Coffee Substitutes Are A Great Way To Start Your Day In A New Way.
1.

 ENERGIZING GOLDEN MILK
A delicious, rich, caffeine-free substitute for coffee. Mix your favorite non-dairy milk with your choice of invigorating spices such as ginger, cinnamon, cardamom, add a drop of vanilla and honey. Drink it to stay energized at any time of the day.
2.

 EFFERVESCENT KOMBUCHA 
A sweetened, fermented, black tea with a deliciously refreshing tangy flavor. Drink it for the benefits of L-theanine -long-lasting energy without the jitters. 
3.

 YERBA MATE  "THE DRINK OF THE GODS"
Referred as "the drink of the gods" by South Americans, mate is a herbal tea made from dried leaves and twigs steeped in hot water. Extraordinarily high in antioxidants. Drink it to stimulate the mind and body, and induce a sense of well-being.
4.

 EASY APPLE CIDER VINEGAR
A caffeine-free drink made from fermented apples. An energy-boosting replacement for your morning coffee. Mix with water. Drink it for its many health benefits and to balance your blood sugar levels.
5.

 STAY ALERT WITH MATCHA TEA
A bright-green tea powder made by taking young tea leaves and grinding. Matcha gives a better caffeine boost. Unlike coffee, it doesn't wreak havoc on your body or create jitters or give a blast that ends in a crash, nervousness, and often hunger pangs.
Drink Matcha for calm alertness, with just a quarter of the caffeine. There are no spikes, no crashes, energy comes on gently and leaves just as gently. No adrenal weirdness.
Do You Avoid Caffeine Because It Keeps You Up At Night?
The idea behind DōMatcha® was to create a completely clean, additive-free, and 100% authentic Japanese Matcha that keeps your energy high during the day without the energy spikes and crashes experienced with coffee and other energy drinks. Matcha will help you stay balanced, focused, and keep you energized naturally throughout the day.
Nothing should stop you from having great energy and feeling your absolute best in mind and body any time of the day.
That's why the DōMatcha® family has included the world's first high-quality decaffeinated matcha, Master's Choice Low Caffeine. The perfect choice for anyone who wants to improve their mood and energy quickly, after a long day at work.
DōMatcha®, A New Coffee Alternative
While other companies are creating beverages that create stress on your body and dependence on coffee and canned energy drinks to make it through the day, DōMatcha® has created a low-caffeine solution that creates a focused but relaxed state.
Thanks to the amino acid L-theanine present in green tea leaves. DōMatcha® can increase productivity and, among other benefits, also reduce your stress levels.
"I love this brand because it represents a genuine Matcha, it's really delicious. I can use Decaf Matcha not only in my tea's and smoothies but also in my desserts. This is the real deal for people who love eating tasty and staying healthy." Nathaly M. DōMatcha® customer. 
DōMatcha® Master's Decaf is a 100% authentic Japanese stone-ground green tea, directly from Kagoshima and Uji, Kyoto where Japanese matcha originated. To this day, the most premium matcha is still produced here.
Master's Decaf is treated with our patented, clean, hot water extraction process. This specialized process preserves the many benefits of matcha, whilst lowering the natural caffeine content.
✔️ Produced by a 16th-Generation Tea Master, highly respected Japanese Matcha grower and grinder with over 300 years of experience. 
✔️ Boosts metabolism and detoxifies your body naturally
✔️ High in L-theanine – which can induce a sense of calm,  relaxation, and focus without drowsiness.
✔️ High in antioxidants – over 56 times more than blueberries.
✔️ Extremely effective packaging for preserving the high quality of the product, preventing it from being damaged by light, moisture, and oxidization. Ensuring your Matcha arrives safely to your door.

⭐⭐⭐⭐⭐
"I would rate Master's Decaf a 5/5! It was such high quality I could tell the moment I saw its bright green color. It doesn't taste any different than regular matcha and with lower caffeine levels, it's a great afternoon pick me up (or anytime of the day for that matter!)"
Andrea Borsuk @organicallyandrea
⭐⭐⭐⭐⭐
"I really love the quality and taste of the Master's Decaf! I most importantly like that I can enjoy matcha tea in afternoons without fear of the caffeine keeping me up all night. I highly recommend this product to all matcha lovers and individuals that may not be able to drink non-decaf. This is 100% at 5 out of 5 product!"
Leslie Weir @leslieweirnutrition
⭐⭐⭐⭐⭐
"I am SO impressed with DoMatcha's new decaf matcha tea. It's smooth, full-bodied, and equally as delicious as their caffeinated matcha. I love that I can drink it past 2 PM and still fall asleep at night. I also love that it still contains all of the nutrients and benefits of regular matcha, so you're not missing out on any of that! It's safe to say that I'm obsessed with this new tea. Rate: 5"
Marcy Allen @glowingholistichealth
⭐⭐⭐⭐⭐
"I love the Master's Decaf! Such a smooth flavor and tastes just like caffeinated matcha. It's also great in baking!"
John Harrison created DōMatcha® as a brand that truly reflects an alignment of East and West.
 Having grown up in Japan, John returned in 2005 looking for a business venture. He met with the Handa clan and partnered with Kazunori Handa-san, 16th-generation Tea Master, as well as with Shohokuen, one of Japan's oldest and most respected matcha producers, to develop an amazing high-quality matcha.
Matcha is still a pretty new concept in the West. This means that sometimes people buy low-quality matcha in error, giving them a terrible first experience, and turning them off to matcha completely.
A good quality matcha is always sweet, creamy, and has a natural vegetable taste. A bad quality matcha is bitter in taste and makes much less froth in water.
Long before John Harrison founded DōMatcha®, his grandfather, Richard Andrews had to leave Japan in 1939 before World War II started. 
 After 6 years he returned to Tokyo to find the city completely devastated by war. In the distance, he saw a lone building still standing: Andrews & George, DōMatcha®'s parent company. The Japanese staff had protected the business from the fire raging through the city by putting wet rice burlap bags on the building.
The DōMatcha® brand truly reflects an alignment of East and West. It was the catalyst and vehicle for uniting a sixteen generation Japanese tea master family (Handa) with a Western family (Andrews) whose ties in Japan go back four generations.
The name DōMatcha®, meaning 'The Way or Journey of Matcha' signifies the path that both families have taken to get to where we are today - producing the very best matcha the market has to offer.
In 2016, John Harrison introduced introduced DoMatcha® - and the world's - first decaf matcha outside of Japan, created using a patented water processing method. Master's Decaf matcha has the same tiny amount of caffeine as decaf coffee and still retains all the nutritional benefits of regular matcha.
"Today, John Harrison continues the legacy of his grandfather, creating a synergy between Japan and the U.S. introducing thousands of customers that want to experience the most authentic and highest quality Matcha."
What people are saying about us… 
"I've bought this product for 2-3 years now. I'm no tea connoisseur but I pour hot water over the matcha every morning, it tastes amazing with a little honey and stevia. Boosts my energy levels and helped me through the toughest parts of my health journey." - Kathy A
Best Ways To Enjoy DōMatcha®'s Products
Best Seller
The world's first decaf matcha, ideal for caffeine-sensitivity or evening consumption.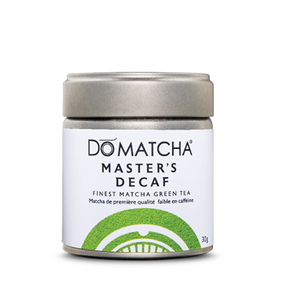 Delicious organic ceremonial matcha in convenient, travel-friendly sachets.